Looking for a way to add some excitement to one of your family bike rides? Then you should think about using a TextClues scavenger hunt for some family friendly fun.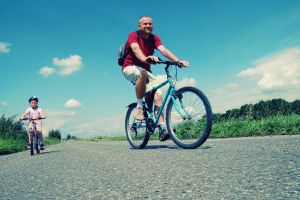 First you'll have to find a good bike path with some landmarks along the way. These landmarks will be used in the clues of the scavenger hunt. If you can't remember enough landmarks or want to look for specifics you could ride the trail before hand or take a ride in the car to come up with some good clues.
Next you'll want to come up with prizes. A good idea is having a treat near the end of the bike ride for everyone to enjoy. You could stop off at the local ice cream joint or popsicle stand.
Here's an example hunt to get the ideas flowing for your own fun day out.
Clue: Time for our ride! Head from the house Toboggan Aquatique Gonflable and along the trail that leads over the river. Whats the name of the first street you cross?
Answer: Jones Street, Jones
Clue: Great! Now turn left down Jones street until you see the house with the green doors. What's the name of the trail that leads down beside the house?
Answer: Oak Trail, Oak
Clue: That's right! Continue down Oak Trail until it ends and then turn left. What is the first building you see?
Answer: Dairy Queen
Clue: You made it! Now head inside for some ice cream treats with you dad.
To see the TextClues service work on your phone try out the demo for free!