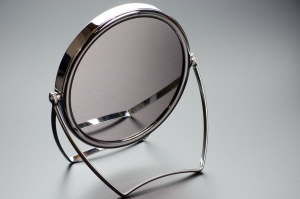 One really neat riddle is one that can only be read by holding it up to a mirror. These riddles are a lot of fun and they are actually quite easy to make. There are two ways that you can go about creating the clues. One on the computer and one by hand.
If you want to create the clue on the computer and have a printer available here is an easy way to create your mirror message:
First, go into Word or your favorite word processor and type out you message
Highlight the text and use the "copy" function on your computer
Then open the program Paint. This can be found by clicking the start button and clicking on the accessories folder
Then paste you message into paint
Choose the drop-down menu for image and choose Flip/Rotate
Then click "Flip Horizontal" and save the image
Print the image and your message is done!
If that seemed too hard or you want to write the clue by hand there is another way. However, this way results in a messier looking message:
Get some paper, a mirror and a hard surface to write on (a book works well)
Now hold the paper up on the hard surface so you can see the page in the mirror
Looking in the mirror write the message out… this will feel strange! It might take a few tries
So there you have it, two ways to make an exciting new clue for your scavenger hunt. Now you'll need to hide it close to a mirror. In the previous clue (whether sent via text message or otherwise) lead the hunter to the message and give a clue to the fact that it will need to be held up to the mirror.