Father's Day is coming up and this year you should give him a gift that shows how much you care. A gift he will be telling all his friends about and one that he won't ever forget. Scavenger hunts make great creative and memorable gifts and are perfect for father's day. Using TextClues you can send the clues and receive the answers automatically over text messages… now that's something he will never forget!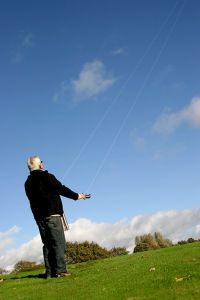 The scavenger hunt you create for your dad should have prizes based of his hobbies and and interests.  The clues can be based on his habits around the house. If your dad likes to fix things around the house get him a few new tools. If he likes playing sports get him some new or upgraded equipment. The clues can lead him to the spots where he likes to spend time around the house.
Here's a simple example hunt that you can modify for your own Dad:
Clue: Happy Father's Day Dad! What tool is sitting in the seat where you like to eat? Reply with the answer
Answer: Hammer
Clue: Alright now what's hiding on the grate where you cook your world famous steak?
Answer: Screw Driver, screwdriver
Clue: Last but not least. What's lying down in the spot where you sit and read?
Answer: Drill, Power Drill
Winning Message: Congratulations you found all your gifts. Happy Father's Day Dad, thanks for always being there for me.
You can customize the clues and prizes to fit you own Dad and give him a gift he won't forget. If you don't want to give him so many small gifts and want to focus on one big gift then you can make a slight adjustment. In the places the clues lead to leave a question written on a note rather than a prize. The answer to the question will be the answer for the scavenger hunt. For example you can ask him what's his favorite band, movie, book, actor or vacation spot.
Whatever you do have fun! And don't forget you can try our TextClues demo here.