Baseball is one of America's most popular sports and therefore it's fun to test baseball fans' knowledge of the game as well as baseball statistics using TextClues. All you need is some baseball loving friends who have a cell phone who have a strong desire to demonstrate their extensive knowledge of baseball. Get some prizes for the winner to make it fun and you're ready to go.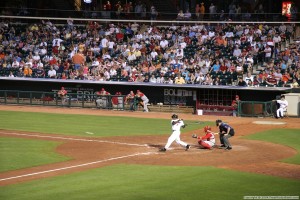 Below is an example of a Baseball quiz. Using TextClues you would set up a series of questions and answers in advance to be received and answered by your friends at a party at say your house on their cell phones. Obviously you're free to use whatever questions you want, for Parc Gonflable Pas Cher example you could use only questions related to your home team. Many variations are clearly possible depending on the knowledge level of the participants, time you want to devote to the baseball quiz and the creativity of the baseball quiz organizer.
Question: Who won the 2010 World Series?
Answer: San Francisco Giants
Question: What player won the 2011 vendita giochi gonfiabili National League Rookie of the Year?
Answer: Craig Kimbrel
Question: Who won the 2009 American League MVP award?
Answer: Joe Mauer
Question: Who was the National League pitcher who won the 2010 National League Cy Young?
Answer: Roy Halladay
Question: Who holds the Major League Baseball's record for highest batting average and most steals home?
Answer: Ty Cobb
Question: Who holds the Major League Baseball's record for most home runs?
Answer: Barry Bonds
After answering all the questions correctly the following text message would be sent: Congratulations, you've won a prize, you're the first to answer all the question correctly, look in the kitchen refrigerator to claim your prize ! ! (You could have a large pack of beer in the fridge marked "Baseball Prize ! ! ") To set up your own quiz, try our Textclues demo.