Here's an idea for all you fans of the TV show Coronation Street.  If you're anything like me you've been watching this soap for years, well how about you set up a trivia game for your friends and family who are also fans and test your knowledge.  You could have your mother playing the game from her home and other family members and friends living in their hometowns all playing against each other, all they need to participate is the use of a cell phone.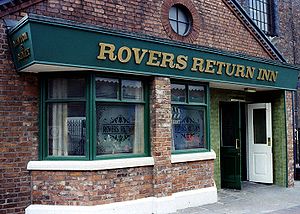 With Textclues you can organize all the questions and answers ahead of time and then have them texted to your friends and family anywhere in Canada or the UK all at the same time, this means that everyone starts playing at the same time too.
Everyone could play individually or as a team.  Most Coronation Street fans have been watching the show for years so there is plenty of scope for questions.  You could have prizes of some Coronation Street memorabilia to be given/sent to the winner.  This could be a fun way to connect  your out-of-town friends and family.
Maybe everyone decides to play on a particular Sunday evening at 7pm.  Your first text could say something like "Welcome to the Coronation Street trivia game, reply "great" to start the game off."  Once they text "great" as their reply the first question of the game will be texted to them.  Start off with a few really easy questions and then make them harder as the game goes on.
Question:  Who is married to Ken Barlow?
Answer:  Deirdre, Deirdre Barlow
Question:  Who runs the hair salon?
Answer:  Audrey, Audrey Roberts
Question:  What is the name of the pub on the Street?
Answer:  Rovers Return Inn, Rovers Return
Whoever finishes first would be texted the winning message "You've won the Coronation Street trivia game!"
You can make the trivia game as easy or difficult as you want depending of the interest of the participants, what's great is that you can input your questions and answers when you have time and on the day you decide to play everything is all ready to go.
Hope this gives you a few ideas of how you can set up your own trivia game.  Try out the free demo here.