With the upcoming start of the US Open Tennis tournament in late August at Flushing Meadow it might be fun to test your tennis friends and aficionados' knowledge of tennis trivia in preparation for the big event. Using TextClues you can set up a tennis quiz using text messaging. To motivate your friends to participate you should probably have a worthwhile prize for the quiz winner. This is a fun way to get you and your friends in the mood as well as everyone learning perhaps some interesting factoids about the game, past winners and generating some interesting discussions and debates about tennis.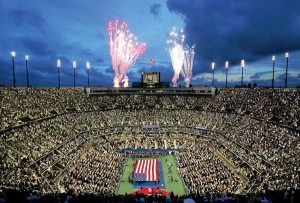 A very simple tennis quiz is outlined below to give you an idea of what is possible with some simple questions. You would set up a series of questions and answers in advance using TextClues. These would be received and answered by participants on their cell phones at a tennis party or any venue which would work for you. Clearly you can choose whatever questions you want varying the level of difficulty Parcours Obstacle Gonflable Pas Cher to match the knowledge of your participants, the questions can be made hard or easy and you can ask as many or few questions as you want. You are limited only by your creativity and the time and effort you want to devote to the tennis quiz.
Question: Who won the Men's US Open last year?
Answer: Novak Djokovic
Question: Who was the last American to win the Men's US Open?
Answer: Andy Roddick
Question: In what year did Andy Roddick win the US Open?
Answer: 2003
Question: What American Woman has played the most singles matches at the US Open?
Answer: Chris Evert
Question: Who holds the record for the most singles finals without a victory at the Men's US Open?
Answer: Bjorn Borg
Question: How many singles finals did Bjorn Borg play at the US Open?
Answer: 4
The following text message could be sent after all the questions were answered correctly, you can choose any message you want: Congratulations, you've won as the first person to answer all the question correctly, look in the envelope on the dining room table to claim your prize ! ! The prize could be a pair of tickets to the US Open final. See the TextClues demo to assist you in setting up your tennis quiz. Good luck and match point.